A Disney Genealogy
Whatsits Galore Presents
DONALD DUCK'S FAMILY TREE

You've enjoyed Donald Duck and all his animated relatives in cartoon shorts, feature films, television, and comic books. Now discover the precise relationship between all your favorite Disney duck characters with this illustrated family tree. It's Disney's version of Duck Dynasty!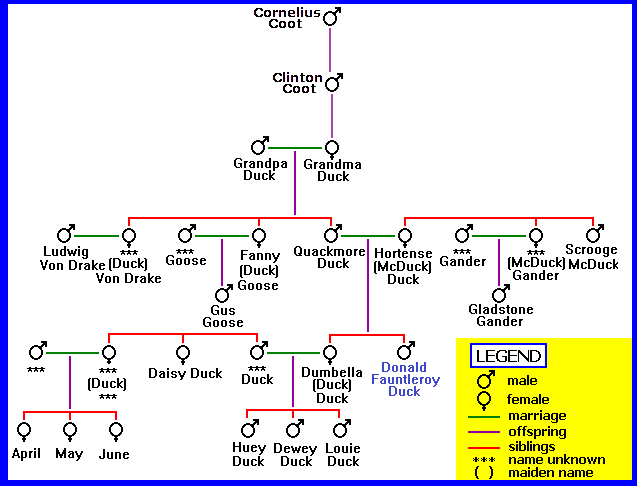 MORE DISNEY:

---

KUZCO

---

MICKEY

---

STITCH

---

TARZAN

---

HERCULES

---

BASIL

---

BUZZ

---

GOOFY

---

First Appearances:



Donald Duck
1934
The Wise Little Hen
cartoon short
Daisy Duck
1937
Don Donald
cartoon short
Huey, Dewey, Louie Duck
(Hubert, Deuteronomy, Louis)
1938
Donald's Nephews
cartoon short
Dumbella Duck (mention only)
1938
Donald's Nephews
cartoon short
Gus Goose
1939
Donald's Cousin Gus
cartoon short
Grandma Duck
1943
Donald Duck
daily comic strip
Scrooge McDuck
1947
Christmas on Bear Mountain
comic book
Gladstone Gander
1948
Walt Disney's Comics and Stories #88
comic book
Cornelius Coot
1952
Statuesque Spendthrifts
comic book
April, May, June
1953
Flip Decision
comic book
Grandpa Duck
1955
No Hunting
cartoon short
Ludwig Von Drake
1961
An Adventure In Color
television cartoon
Clinton Coot
1994
Guardians of the Lost Library
comic book
All Disney characters & images © Disney and are used for fan purposes only
All other content © 2001-2021 Whatsits Galore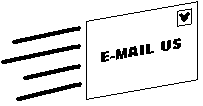 Disney Links:
Disneyana For Sale
Testimonials
Very Good Advice
The Disney Point
So You Wanna Be a Collector
The Perfect Collectible
Disney Glitches
Easy Disney Costumes
For Disney Girls Only
The Not Your Average Disney Trivia Quiz
Animated Feature Timeline
Mouse Tales
Mouse History 101
It's Tough to Be a Bird
Disney's House of Mouse
Separated at Birth
Coco: The Rivera Family Tree
Definitive Princess List
Disney Villains
Guilty! Disney's Other Villains
Henchmen, Minions, & Thugs: Disney's Second Class Villains
Prep & Landing
Disney Home Page
Disney Roleplaying Site
Other Links:
The Wacky Races
Get Smart Catchphrases
A Christmas Quiz
Greatest American Hero Fed-Speak
The Ballad of Gilligan's Trial
The Kolchak Survival Guide
World's Longest Yard Sale
Six Flavors of Quark
Skits & Bits
TV Glitches
The Spooks of Scooby-Doo
Star Trek Poster Gallery
Dwarf Identification Guide
Tarzan's Dictionary
Brisco County, Jr. & The Orb
Sherlock Holmes
Dragonmaster Game Variants
Your Life's Purpose
Panini Stickers
Site Map
Home Base